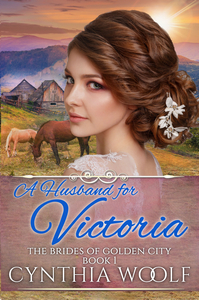 New York Governess Victoria Coleman survives an attack but finds herself in a family way. When her employer finds out, the kind man tells her she is safe there. But his wife has other ideas. Believing her husband is the child's father, she threatens Victoria. Needing to escape, Victoria becomes a mail-order bride as far away as possible—Golden City in the Colorado Territory.
Andrew Mayfield is consumed with guilt over the death of his wife and infant son in childbirth six months ago but knows that his two-year-old daughter needs a mother and he needs to marry to provide her one. He contracts for a mail-order bride.
But vengeance is a dish best served cold and the woman determined to see Victoria's baby dead and therefore Victoria herself, is an iceberg. Refusing to believe her husband or Victoria, Mildred Thomas follows Victoria to Golden City. Will she be able to exact her revenge for a perceived wrong? Or will Andrew be able to protect the woman who might be working her way into his heart?