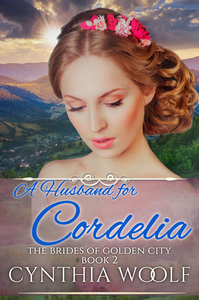 Cordelia Jameson is left alone after her brother's death. He left her with $5000 which she knows won't last forever and she doesn't want to be alone. She wants a husband and children. She decides to become a mail-order bride and goes to Brides for the West to sign up.
David Thomas survived his sociopath wife's machinations. She was hung for attempted murder and kidnapping, though he would have divorced her in any case. He'd do anything to protect his four-year-old daughter Margie. But now that he's moved out west, he realizes he needs someone to care for Margie and he needs a wife for himself since he wants more children, too. He's vowed he won't allow his emotions to get involved, not after what he went through with his first wife.
While Cordelia is living at the boarding house, waiting for her mail-order groom, her brother's former partner, Richard Lynch, finds her. He demands the money that her brother left her. She refuses and he backhands her sending her to the floor. If not for the interference of another of the brides, he might have beat her to death.
When Cordelia leaves to marry David, she believes she's left Richard behind her. But like a bad penny, he shows up in her new town making the same demands only this time he threatens Margie. Cordelia knows he won't go away and even if she does give him the money, when he finds out that David is rich, he'll be back again and again, blackmailing them. He has to be stopped. Now. But how?