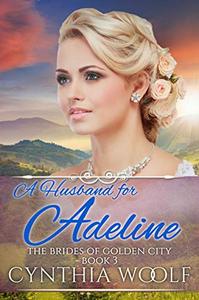 Douglas Latimer lost his wife and his best friend under suspicious circumstances in a gold mine explosion. Left with a new baby and a broken heart, Douglas meets his best friends mail-order bride intending on sending her back. One look at Adeline Brady and he knows she can solve his problems and help him raise is daughter…ff she'll agree to marry him instead. He finds that Adeline's arrival unsettles him in ways he didn't expect. She cares for his infant daughter as if the child were her own, and looks at him with soft blue eyes, expecting something from him he knows he cannot give her after his previous wife's betrayal, his trust…and his love.
Adeline Brady traveled to 1871 Colorado from a Carson City saloon where her gambler father frequently bet her virginity on a hand of cards. He was a cheat and a liar, so she never had to pay his debt, but she needed a new life, a new start with a man who would honor and value her as his wife, not a piece of property to be gambled away. At first glance, Douglas is everything she had hoped for. Handsome. Established. Protective. But he vows to her from day one that he will never give her his heart.
When an unexpected death tears the community apart, can Douglas and Adeline conquer their fears and find happiness, or will their distrust of each other drive Adeline into the arms of another man, a rival miner who has made no secret of the fact that he will own Douglas's mine and his wife? Little do they realize he is willing to kill to claim both for his own.