I had my covers redesigned for the Destiny in Deadwood series and I'd love your comments. On the left is the new cover on the right is the old one. I changed them so they better reflected the stories.
First is Redeemed by a Rebel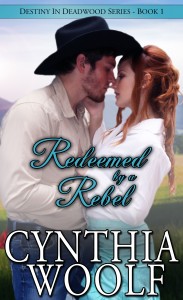 Jake Anderson killed a man defending his fiancée from a brutal attack, but lost her and his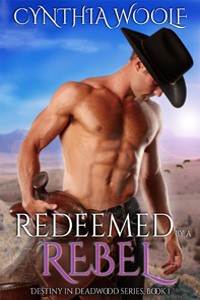 freedom in the process.  Now he's on the run, tormented by the need for vengeance.
Becky Finnegan will do anything to escape her drunken father's fists, including slave away at their mine.  Her only hope is to strike gold and make a new life for herself somewhere far, far away from Deadwood.  But then Jake arrives and does the unthinkable…forces her to feel, to hope…and to love.
Jake would give his life to protect Becky, but all he can offer her is a broken heart, a criminal's life, and a past haunted by failure.  How can he save her when he's already lost himself?  Will he destroy everything, or can the beautiful rebel redeem Jake's lost soul?
Amazon: http://amzn.com/B00I1GZAU0
Second is Healed by a Heart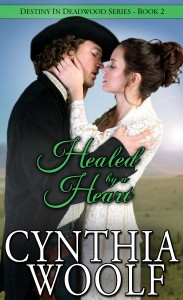 All Liam Anderson wanted after the War Between the States, was a little peace.  After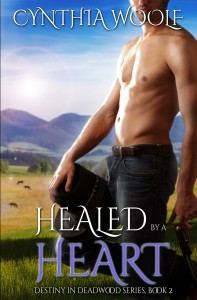 seventeen years in the army, he's tired of fighting and killing. Having lost his beloved wife to influenza, he's tired of hurting.  And seeing his baby brother framed for murder, he's tired of injustice.  He left everything behind to help his brothers escape, packed up his children and possessions, and took them all to a gold claim in Deadwood.
Miss Eleanor Smith is a thirty-two year-old spinster. She gave up her dream of a home and family a long time ago. Instead, she has spent her life traveling the world, ministering to the weak, the injured, the poor, and the forgotten, following her preacher father from one hell hole to another.  From what she's seen of men and the world, she's better off taking care of herself.  And she gets along just fine, until she literally falls into Liam's arms, gets in the middle of a fight that isn't hers, and becomes a pawn for an enemy's revenge.
Deadwood was supposed to be a fresh start for Liam Anderson and his younger brothers, but trouble followed him and his children. And when Eleanor disappears, only Liam can rescue her. The headstrong, independent woman awoke his dead passion, but refused to surrender to his touch.  Can he convince her that merely surviving isn't enough? Despite his sins, he's the only man who can save her, and she's the only woman strong enough to heal his broken heart.
Amazon: http://amzn.com/B00KK94YPI
Third is Seduced by a Sinner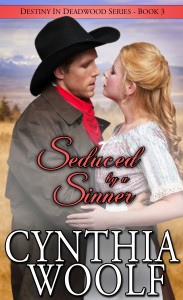 Zach Anderson is a desperate man. He needs to find a killer before the man destroys Zach's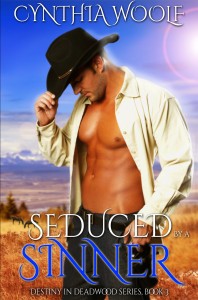 entire family. He also must convince one Lily Sutter, the woman he loves, that she loves him and wants to marry him.
Neither task is an easy one.
Lily Sutter is a sinner. Just ask anyone in Deadwood. She had a baby out of wedlock and she doesn't deny it. She was seduced and left by one man; she refuses to be taken in by another. The fact that Zach makes her blood boil and her heart race, just by being near, has nothing to do with anything.
Amazon: http://amzn.com/B00O4QLPS2