Hi, Eileen, thank you for joining me today and thank you for your giveaway of a electronic copy of your new release, A Prince of a Guy.
Thanks so much for the invitation. The questions were great. The only trouble I had was choosing only eight.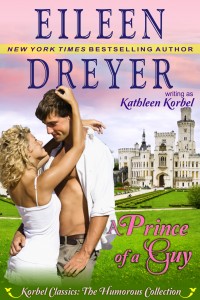 How did you get started writing?
             There's a great quote by Moliere. "Writing is like prostitution. First you do it for fun. Then you do it for a few close friends. Finally you do it for money." That's a pretty good outline of my own journey. I actually remember the moment I began to write. I was a Nancy Drew fanatic. Loved me my girl sleuth and her red roadster.
Then the day came when I realized I had read every Nancy in the library. And the librarian informed me that (sob) there wouldn't be another out for a year. Well, one of the truths about me is that I do not wait well. I was devastated. And then, just like in the movies, I had this sudden idea. "Wait. I can write my own. And I can make them turn out the way I want them to." I was ten.
The next phase started in seventh grade when I realized that an easy way to make friends was to put classmates into stories of adventure and romance with famous heartthrobs. Every morning there was somebody waiting for me to find out what happened the night before. Pretty heady stuff.
I stayed that route for quite a few years, although I retreated to having most of the adventures myself. It wasn't until I was married, a mother, and had been working as an ER nurse for ten years before I hit the next stage. I was standing out in the hospital parking lot with a friend saying something like, "There's got to be something better than this." She was as big a reader as I was. She loved to write. She said, "I think we need to publish books."And after about five years of slogging through the boggy land of publishing, I saw my first book published. I'm now on my 42nd.
What genre(s) do you write in and why?
If I had enough time (and focus. I'm the queen of ADD) I would write in most genres, because I read most genres, and you tend to write what you read. What has ended up happening, though, is that I've focused on romance and suspense I think it's because both genres reinforce messages I like, romance the message of hope and suspense of justice.
The truth is that I began writing romance without actually understanding it completely. What I did know, however, was that the heroines were strong women who always won in the end. And that in the end, no matter what had happened during the course of the book, everything would be okay. When I started trying to get published, I was working as a trauma nurse. Kind of stressful. I realized much later that all the while I worked ER, I only wrote romances. I think it was because there were days that it was the only way I could make good things happen to good people.
After I retired I included suspense(amazingly enough, all set in medicine). I could go someplace darker then, and tell some truths about the world of medicine I couldn't before. And I could reinforce again and again, at least for me, that there was justice in the world. That the people I took care of who did terrible things would be punished and the innocent rewarded. As I said, the world I worked in was, at best, uncertain. This helped me believe that the world could remain rightside up.
The best of both worlds, of course, is when I can have romance and suspense. I get to enjoy a mix of both.
 Has your muse always known what genre you would write and be published in?
             Ya know, I guess I didn't realize this before now, but actually, yes. The funny thing is that I never read romance growing up. Not Heyer or Cartland, and I thought most Harlequins were silly. I came up what I call the mystery/suspense pathway. Nancy Drew, Mary Stuart, Helen McInnes, Alistair Maclean, Robert Ludlum. I've always said that it was my friend Katie who gave me the idea to write romance. After all, she was an avid reader. I insisted I wanted to write suspense, history, fantasy.
What I never paid attention to is that all along what I wrote for myself was actually what I'd label romantic adventure. Couples in terrible danger. Sexual tension(although I didn't actually call it that when I was young). Happy endings. (Although I was much more a serial writer. Maybe I should have been a soaps writer). But yes, in the end, I've actually been focused in this direction since I was ten.     
 What is your favorite part of writing?
             Ooh, several things. That first inspiration. The moment you see something, or read something or hear something, and suddenly your brain goes, "What if….?" and sometimes within minutes characters and places and ideas are whirling around in your head. At that moment the book is almost a tangible thing you can hold in your hand.
Being caught up in the story, where the world you've created becomes the one that surrounds you. Dishes disappear and bills and that spat you had with your husband the night before. You're actually running through Europe with a European prince trying to save the heir to the throne. You're not in sweats, but an elegant gown as you stroll through the formal gardens of a castle, or breaking and entering attire as you sneak through a house. I admit it. Pretending for a living is a lot of fun.
What is your least favorite part of writing? 
The long, hard, frustrating days when it seems the story is holding itself just out of your reach, when your characters won't tell you why they're really doing what they're doing, when the plot just won't come together(I have most problem with that. You'd think somebody who wanted to be a suspense writer would love plot. Nah.). I actually have an old ratty robe just for days like that so my family knows the book isn't going well and that they should extend the safety perimeter.
Tell us about your current series.
Well, there is actually a series within a series. The larger one is called Korbel's Klassics, the Humorous Collection. I have 20 books I'm putting back up, so I'm trying to organize them into some kind of order.  My newest offering, A Prince of a Guy is (I hope) humorous. I think it is, anyway. I love making fun of royal protocol. As for the smaller series. A Prince of a Guy is attached to the next book, The Princess and the Pea, both about a royal family in a tiny European country. (And yes. It was particularly fun to pretend I was a princess for a few months. Well, a princess, a secretary, a prince, a spy….)
Give us an elevator pitch of your book.
Casey Phillips is a secretary from Brooklyn. When she wins a trip to Europe, she decides to pay a visit to the tiny country of Moritania, where her family originated. Instead of sitting on a tour bus, though, she suddenly finds herself impersonating a crown princess when that young woman—who looks exactly like her—is kidnapped right before her coronation. To complicate matters, Casey finds herself falling in love with the handsome prince who is  helping her.
Tell us about your hero. Give us his strengths and one of his weaknesses.
Prince Eric van Lieberhaven is the epitome of a handsome, suave, intelligent prince. He is not the ruler. Instead he is the economic secretary. He is an eminently sensible gentleman who has been raised in a castle and mingles with the top crust of Europe. Surprisingly he is also honorable and awash in common sense. What he does not have is a sense of fun and spontaneity. It has never been allowed. So when a brash secretary from Brooklyn agrees to help save his country, it isn't just her winsome prettiness that fells him, but her irrepressible humor and cheeky irreverence.
Tell us about your heroine.  Give us one of her strengths and one of her weaknesses.
Casey Phillips is a young woman who has had to settle. She has royalty in her distant past, but the reality is that she lives in a third floor walk-up with her mother in Brooklyn where she works as a secretary and attends night classes for college. She is bright, happy, as I said, cheeky, and most of all adaptable. When she is pulled from obscurity to impersonate a princess, she makes indelible impressions on the position. Her weakness is that she could use a little more sense of self-worth. She doesn't believe she's worthy of the love of a handsome prince. She can't imagine how the adventure in Moritania could end any way but her going home alone back to her normal life.
Excerpt from A PRINCE OF A GUY
The Royal Palace of Moritania, the Alps, 1987
 Eric handed her up the steps before him as a silent groom appeared from somewhere and took the Bronco away. Casey half expected him to sweep the cobblestones behind them. When they reached the door, it magically opened, another liveried servant bowing and smiling as he passed them on.
"Rolph," Eric said, easing Casey along when she slowed, "is Her Majesty the queen available for visitors?"
"I shall check for you, Your Highness. Refreshments?"
He stole a look at Casey, who was rubbernecking the paintings on the walls with undisguised astonishment. After a moment he nodded. "Yes, I believe they will be needed. In the Great Hall, if you please."
Rolph dispatched a discreetly questioning look, but bowed and moved away. Casey was still trying to take in the extent of the entryway.
Train stations were smaller. The walls extended up some thirty feet, decorated with what looked suspiciously like old masters and terminating in a high, vaulted ceiling that some brave painter had gotten his hands on. It was all light and froth, cherubs and swirling gold banners swimming around a vault of milky white. The floors were of gleaming dark wood covered in what had to be priceless Oriental rugs. The effect was one of immense space, the inside of the building mirroring the image given by the outside. Quiet, understated grace and wealth.
No need for ostentation here. It only made her want to see more.
"Like your decorator," she finally managed, casting a sidelong glance over to where Eric was enjoying her reaction.
"Moritania might not be big—" he bowed a little in acknowledgment, "—but it is a country rife with good taste. I'd like to show you something, if you don't mind."
"The only thing you could show me to beat this would be the Sistine chapel."
Walking to the right side of the hall, Eric opened a great oak door. Casey walked past him into an even more impressive room. It was long, with six matched sets of crystal chandeliers and floor-to ceiling windows that reflected in the mirrors along the opposite wall.
"Been to Versailles, had they?" she breathed, coming to a stop.
Eric wouldn't let her. Instead, he took her by the elbow and gently propelled her down the parquet flooring. "I'm sure you don't know," he was saying, "but my brother just died recently."
Casey immediately turned to him. "Oh, I'm sorry. I didn't."
He nodded with a sad little smile. "He was much older than I, and his heart was bad. The upshot of it is that next week his daughter, my niece, will become the new queen of Moritania. She is his only child, and his wife is also dead."
Casey had no idea where the conversation was leading. He seemed so reluctant to tell her that she knew it was something important to him. She couldn't think of anything more to do than nod.
Then he stopped walking. Turning to her, he took hold of both of her arms, his eyes trying to communicate something of import. They had softened. Casey felt even more confused.
"What?"
"The portrait here at the end of the Great Hall has just gone up. It is a painting of the next queen of Moritania, Her Royal Highness the Crown Princess Cassandra."
He turned Casey to face the painting. Casey's jaw dropped. Looking back at her from the canvas was a young woman with delicate features, a gently molded face with deep, wide-set hazel eyes and a small, straight nose. A small mouth curved just at the ends as if she was amusing herself immensely with a private joke. Diamonds and rubies glittered at her throat, and a mane of tawny hair swept back, thick and styled sleekly away from tiny ears where teardrop diamonds hung.
Casey turned to Eric and then back to the picture and then back to Eric again, unable to speak. Then she turned once again to the portrait and finally admitted what he'd been trying to prepare her for. She was staring at a portrait of herself.
"And here I thought losing the car was going to be the high point of my day."
A Prince of a Guy
When New Yorker Casey Phillips visits the tiny country of Moritania, she simply wants to see where her ancestors came from. Instead, she's mistaken for a princess.
The real princess has been kidnapped, and Crown Prince Eric von Lieberhaven insists Casey—a dead ringer for the missing royal—step into the princess's shoes until she can be freed.
As Casey upends royal tradition, Eric finds himself hoping the cheeky American never returns home. But can a secretary from Brooklyn really find happiness with a prince?
Available at: AMAZON, BARNES & NOBLE, KOBO
Eileen Dreyer
New York Times Bestselling, award-winning author Eileen Dreyer has published 38 novels and 10 short stories under her name and that of her evil twin, Kathleen Korbel in contemporary romance, paranormal romance, historical romance, romantic suspense, mystery and medical forensic suspense. A proud member of RWA's Hall of FAME, she also has numerous awards from RT BookLovers and an Anthony nomination for mystery. Eileen spent 16 years as a trauma nurse and is educated in trauma, forensics and death investigation. She is now focusing on what she calls historic romantic adventure in her DRAKE'S RAKES series, the latest of which, TWICE TEMPTED, is out now. A native of St. Louis, she still lives there with her family. She has animals but refuses to subject them to the limelight.
Website: www.eileendreyer.com
Facebook: https://www.facebook.com/EileenDreyer
Twitter: @eileendreyer